Euro Auctions, the unreserved industrial, construction and agricultural auctioneer, has announced the acquisition of Michener Allen Auctioneering Limited, a Canadian Industrial Equipment and Automotive auction company.
Michener Allen Auctioneering Limited (Michener Allen) founded in 1971, now has 50 employees and operates from three permanent sites in Edmonton and Calgary in Alberta, and Winnipeg in Manitoba. The family owned and operated business has three generations working together, conducting 50 auctions per year, catering for a wide variety of both buyers and sellers across multiple sectors.
The acquisition will significantly strengthen the existing North American operations that Euro Auctions has in the USA under the Yoder & Frey brand and will enable Euro Auctions to gain an established foothold in the Canadian market, with the successful and established Michener Allen operation. Given the deep customer relationships and significant brand value associated with Michener Allen, Euro Auctions will retain the Michener Allen brand.
Derek Keys, Euro Auctions founder commented "We are delighted to welcome the wider Michener family into the Euro Auctions family. We don't see this as an acquisition more of a coming together of two strong family businesses, sharing the same core principle of delivering unrivalled customer service by treating both buyers and sellers equally. We have always kept a keen eye on the Canadian market with the ambition one day of entering it, so we are delighted with this opportunity."
The leaders of Michener Allen, Ian and Wade Michener, will remain in the business and will continue to oversee operations. "The Euro Auctions Group will further strengthen our focus on industrial and agricultural equipment markets in Canada and we look forward to benefitting from the truly global customer base of the Euro Auctions Group. This is just the start of the next chapter of the 52-year history of our company, and we look forward to working with the Euro Auctions team. Importantly, Euro Auctions will be retaining the Michener Allen employees and brand, and this will really give our brand global exposure," said Ian Michener.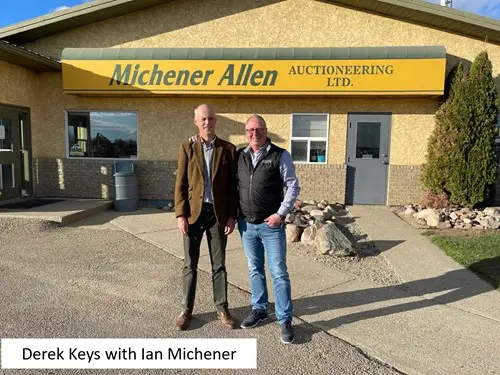 Share on