The new Cat 988 GC Wheel Loader allows operators to move more material at a lower cost per hour for a faster return on investment. The new loader offers up to 5% less fuel consumption and up to 15% lower maintenance costs than the Cat 988K. Designed to maximise life-cycle value in moderate production applications up to 2,000 hours per year, the 988 GC is capable of delivering production within 6% of the 988K in truck loading applications.
Easy to operate and maintain, the new 988 GC is optimised as a 45-tonne (50-ton) truck match loader. Its 3909 mm (12.8 ft) dump clearance delivers efficient loading up to the Cat 775G truck. With bucket payload matched to the 988K, the new 988 GC offers up to 670 tonnes/hour (740 tons/hour) productivity in shot rock truck loading applications and up to 527 tonnes/hour (581 tons/hour) for load-and-carry operations.
The durable structures of the new loader are built for multiple life cycles and to withstand the toughest loading conditions. Built on the common Cat Large Wheel Loader platform, its full box section rear frame resists torsional shock and twisting forces. Its front frame is redesigned to withstand larger loads and features a new lift arm design.
Reliable and efficient
Reliability and efficiency are at the heart of the new 988 GC with the Cat C15 engine, which offers configurations to emit equivalent to EU Stage IIIA / U.S. EPA Tier 3 or meet EU Stage V / U.S. EPA Tier 4 Final emissions standards. The 988 GC's cooling package offers higher heat rejection with an on-demand fan strategy and two available fan speed settings for standard and high-ambient-temperature configurations.
The Cat torque converter with standard lock-up clutch eliminates losses, lowers system heat, improves travel times and reduces cycle times in load-and-carry operations. Improving service life and serviceability, Cat oil disc brakes provide superior heat dissipation and performance.
Designed specifically for quarry and mining applications, the Cat Advanced Power Electronic Control Strategy (APECS) transmission offers best-in-class performance with consistent, smooth shifting, productivity and efficiency improvements, and long life. Forward momentum and torque are maintained when shifting for greater momentum on grades. The transmission neutraliser pedal extends service brake life and allows full power during stationary loading.
Load sensing hydraulics direct hydraulic flow to implement and steering systems only when needed to optimise performance and efficiency of the new 988 GC. Beneficial for load-and-carry applications, the optional ride control adds an auxiliary accumulator to the lift circuit for a smoother ride.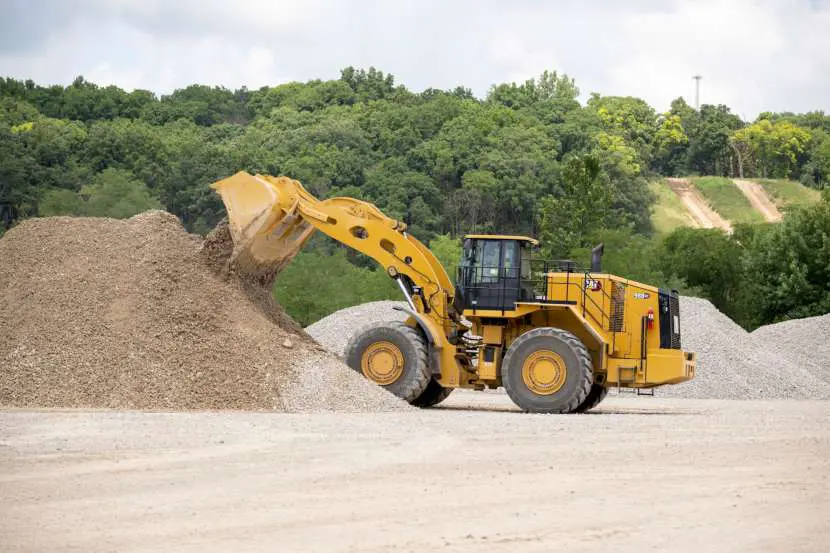 Easy, comfortable operation
Maximum machine responsiveness is achieved through its Steering and Integrated Control (STIC™) steering, featuring up to 47% quieter operation. Its Cat Comfort Series III seat with seat-mounted implement pod that moves with the seat enhances comfort and reduces operator fatigue. Operation is simplified through the intuitive operator interface, touchscreen display and easy-to-use soft detent implement controls. Machine vibration feedback to the operator is reduced using cab isolation mounts and seat air suspension, and an optional air cooled and heated seat is available for increased operator comfort.
Simple integrated technologies help to increase the 988 GC's productivity and efficiency. Helping to monitor, manage and enhance jobsite operations, Product Link™ offers wireless access to essential operating data for valuable insight into how the machine is operating. Standard rear Cat vision enhances visibility behind the 988 GC, allowing the operator to work safely and confidently. To help keep people and assets safe, the 988 GC can be equipped with Cat Detect technology that enhances awareness of the environment around working equipment.
The Z-bar front lift arm design provides excellent visibility to the bucket edges and work area to simplify operation. Bucket payload is aligned with the 988K models with a range of Cat performance series buckets available with capacities from 6.3 to 7.6 m3 (8.3 to 10 yd3).
Displaying data in real time to improve productivity and reduce overloading, optional Cat Payload provides on-the-go weighing for materials hauled and loaded. An optional Advanced Productivity subscription provides comprehensive actionable information to help manage and improve operational productivity and profitability.
Reduced maintenance
The new loader's design includes features to increase machine uptime and reduce maintenance costs by up to 15% compared to the 988K. Advanced filtration extends performance and reliability of the hydraulic system. Ground level or platform access to grouped service points delivers convenient servicing. Providing easy access to important daily service checks, access doors are located on both sides of the engine compartment. Centralised ground level grease points plus ground level sight gauges simplify daily greasing and oil level checks for major machine systems.

Its on-board diagnostics alerts the operator of machine issues so that problems can be resolved before failure. Information captured by Product Link can be remotely monitored via my.cat.com, the Cat app or VisionLink® to help further advance preventative maintenance and servicing efficiency.

Share on