CASE Construction Equipment completed its 2023 European Roadshow with a two-day, sustainability-certified event, in Derbyshire, UK in September.
The company welcomed UK and Northern European dealers, the construction media and more than 200 customers to the final leg of this year's Roadshow, following well-received events in Germany, Italy and France throughout the Summer.
CNH Industrial, through its CASE Construction Equipment brand and in line with its sustainable development engagement policy, had committed to achieving a sustainable event, as a pilot project for its ISO 20121 certification. ISO 20121 is an international standard for organisations that want to demonstrate their commitment to sustainability in the planning and implementation of events.
Three Sustainable Principles
The standard is based on three principles of sustainable development: ethical-social, economic and environmental. It supports the achievement of SDGs-UN (Sustainable Development Goals-United Nations) objectives and is in line with CNH Industrial's sustainable management policy, strategy and objectives. With the purpose of 'Breaking New Ground' it is an innovative approach to the management of company events.
All environmental, social and economic aspects of the event were analysed and acted upon to minimise their impact. This included land conservancy, waste management, containment of emissions, sustainable procurement and improvement of the social and economic impact on the communities involved.
"ISO 20121 provides for performance monitoring, always with reference to the principles and policies adopted by the organisation," said Daniela Ropolo, Head of Sustainable Development Initiatives, CNH Industrial. "It allows us to correctly identify and manage the lessons learned from the event, in order to use them in the planning for subsequent activities."
Electric Excavators on Show
This focus on the environment was extended to the equipment on display, with customers able to trial two all-electric mini excavators and a prototype electric compact wheel loader. The loader, called the 12EV, uses a powerful 23kWh battery pack to drive the transmission and hydraulics, delivering up to six hours of continual use on a single battery charge. It will be launched to customers across Europe by the end of the year.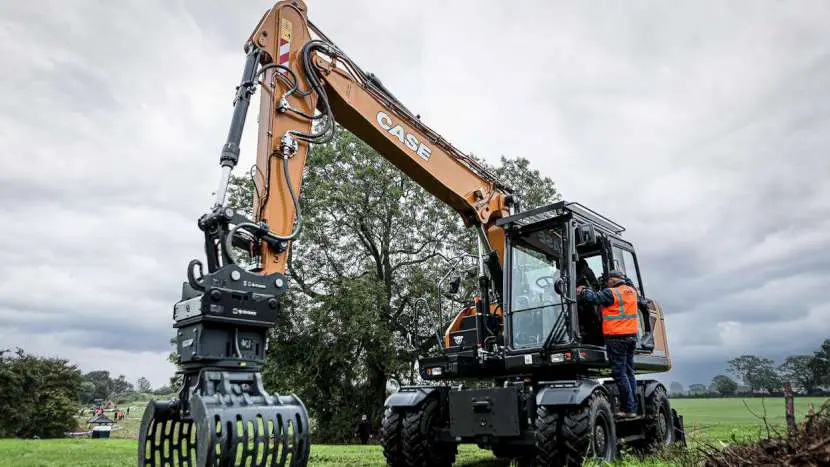 CASE now offers two electric mini excavators. The CX15EV was launched earlier this year and the 2.5- tonne CX25EV will be available in the coming months. In both cases, the mini excavators are capable of operating for a working shift between battery charges, with as much, if not more power and performance than conventional diesel-powered models.
New D-Series on Show
CASE has also expanded the range of diesel models available to customers across Europe. With the launch of the D-Series mini excavator line, the company has increased the number of models from seven to an incredible 20 machines, between 1-6 tonnes operating weight. This includes a zero tailswing option for every weight sector and four mini excavators with a two-piece articulating (TAB) main boom. CASE now offers a mini excavator to suit every application, in every market sector, across every territory.

The company also presented its new CX75E, a 7.5-tonne midi excavator with a two-piece articulating boom (TAB). Offered alongside the 7-tonne monoboom-equipped CX70E, the CX75E allows CASE to provide complete coverage of all sectors of the midi excavator market across Europe.

Customers had the opportunity to try a range of E-Series crawler excavators and the recently-launched ESeries wheeled excavator line. With four models, the wheeled excavator range includes two conventional tailswing and two reduced tailswing machines, with operating weights of 14-17 tonnes. The equipment on display also included compact and full-size wheel loaders, along with a first opportunity for many to see the latest CASE C-Series grader, complete with electro-hydraulic controls.

Developed for small job sites in a wide variety of applications, from landscaping to grounds maintenance, agriculture to construction, the prototype TL100 mini track loader attracted attention and appreciation at the event. The compact machine offers a combination of manoeuvrability and power and few visitors could resist the opportunity to put the machine to the test.

CASE had stations explaining its range of connectivity services, demonstrating how telematic systems such as SiteWatch can save money and reduce unexpected downtime on site. The company was also supported at the event by suppliers Geith and Sampierana, providing customers with advice and information concerning buckets, attachments, tracks and a range of other components.

The Roadshow provided visitors with the ability to try their hand at the famous CASE Rodeo operator challenge. Using a CX25D mini excavator, with a scoop attached to the bucket, operators had to pick up golf balls and deposit them inside waiting road cones, spaced around the machine. This had to be carried out against the clock, combining speed and accuracy, with fingertip control of the machine.

"With so many new and improved machines on display, the CASE Roadshow provided an incredible opportunity for our customers and our dealers to meet and to try the very latest equipment. They were also able to catch a glimpse of the future, with our growing electric line-up," said Ivona Nicol, Marketing Manager for Northern Europe. "More than that, the Roadshow provided CASE and CNH Industrial with an exciting opportunity to create our first certified ISO 20121 sustainable event. We were able to assess and refine every aspect of the creation and implementation of the Roadshow and we have been delighted with the results and with the feedback from everyone who attended."

Share on