Market confidence continues to soar in the used construction and agricultural machinery markets at Euro Auctions January 2023 auction produces a £44.4 million sale hammer despite the current economy.
With 547 vendors from 22 countries consigning equipment to this sale, it was the home nation that ruled this auction, with 480 sellers coming from the UK. In all 5,432 lots went over the ramp, with a hammer total of £44.4M making this sale 13% up on the previous sale in November / December (when 4,509 lots achieved a hammer total of £38.9 million). That is a remarkable achievement, as in just short of 8-weeks, including Christmas, Euro Auctions has cleared the Leeds yard and re-stocked to capacity to nearly 5,500 pieces of heavy construction and agricultural machinery and commercial vehicles.
New Bidders – Many Online
With almost 5,000 bidders registering to take part in this sale, this was the most registrations at any Euro Auctions sale anywhere, of which 831 of those registrations were bidding for the first time. There were 1,223 buyers at this sale of which 76% of all sales were transacted via the internet. Europe was the big buying region with 50% of the sales total going to Europe. 44% to UK based buyers with the rest of the world making up the remainder.
Chris Osborne, Sales Manager at Euro Auctions comments on the January 2023 sale: "Historically January has always proved to be a strong sale in Leeds, with the number of lots for sale, the sales prices achieved and the quality and choice of machines available being one of the highest for the year. Even with so much talk of market uncertainty we had the highest number of bidders ever, with a noticeably huge volume of floor bidders across the 3 live days. Even compared to pre-Covid times, both auction rings were completely packed out for the duration of the sale week. We consistently see in excess of 700 new bidders register for each Leeds auction and this has been the case for a number of years. As you can imagine the constant addition of active buyers to our established global customer base means that we can consistently get the results we do, selling £45m of equipment every 6 weeks or so. Without having that pool of global buyers, the sheer scale of what we do just wouldn't be possible."
He continues, "Since the retraction of the Ritchie Bros. takeover bid in March 2022 to acquire Euro Auctions, the business at Leeds has really stepped up to another level. The sales managers, not just in the UK, but globally, are now being offered more stock for each sale than ever before. Regardless of market highs and lows, the consistent theme is that we are filling this Leeds yard every 6 weeks."
Price Checking
Osborne  believes that the sale sets a benchmark for pricing, "The used construction and agricultural machinery sector will use our Leeds sale in January to 'price check' the market for the new year ahead. To set market value for the next 3 to 6 months, the Leeds sale sets the bar. With the volume of stock, variations of makes and models, we have the broadest cross section of individual machines available anywhere. Because of the volumes that we sell and because everything sells, it is recognised globally as realising true market value. Examples of this are machine models we consistently sell large quantities of; ZX130's, JS130's, KX080's, U48's Thwaites Dumpers or JCB Telehandlers for example. Within each of these models we will sell almost every age from new to 10+ years old, this allows us to be extremely accurate when working with clients to advise on expected values for their equipment and what we can achieve."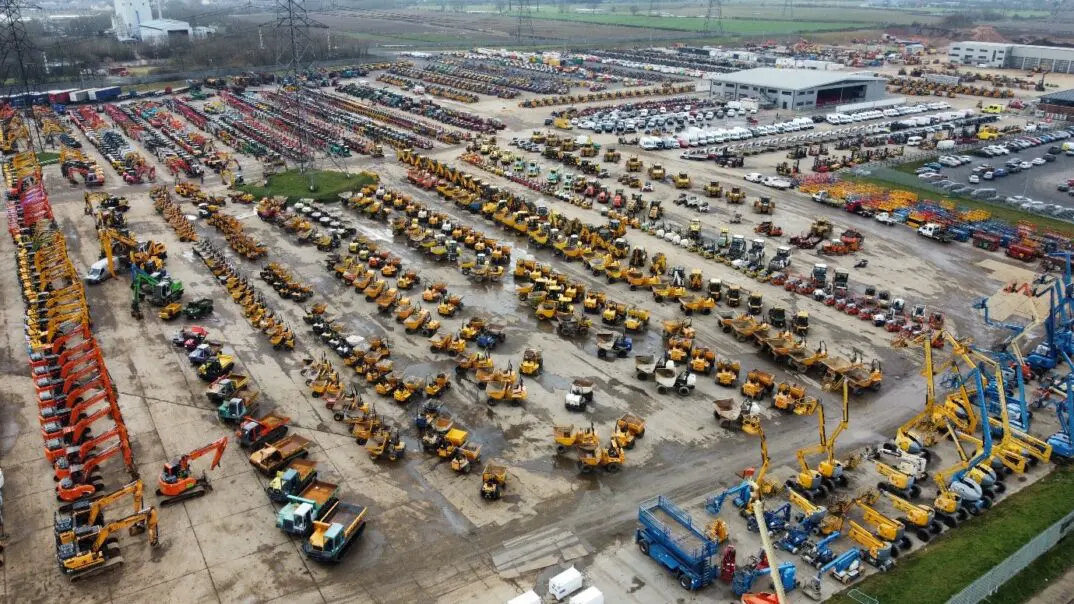 Fleet Sales – Healthy Sign
Osborne is pleased to see the return of fleet sales: "In this January sale we noticeably saw a higher number of 'fleets' of equipment making its way to us to be sold, i.e. multiples of the same units from one company. This shows that operators are finally getting stock through from OEMs which is good for the used equipment industry and great for our buyers. We are now seeing rental and construction companies disposing of large multiples of the same machine makes, models and years, making room for new machines to be delivered. This buoyancy in the market is good for buyers and sellers alike. At the January 2023 sale 700+ excavators went over the ramp, which included 408 mini excavators, which for Leeds was another record number. Again, presenting this volume of excavators for sale has become a regular occurrence at Euro Auctions, Leeds and there is nowhere, certainly in Europe, where buyers can see such a compliment of diggers for sale."
What's Hot
"At the January 2023 sale there were many exceptional lots that made some fantastic prices. In what is a 'self-regulating' industry, the market dictates the value of each item sold – demand and supply set the price. Those following the auction closely will have noticed that many models increased in prices since the sales towards the end of 2022."
Top Picks
"At this January 2023 sale, we saw a large number of Excavators of all sizes. Telehandlers and Articulated Dump Trucks were available in good numbers also, all making strong prices. Of all the equipment sold, here are some of my personal 'Top Picks' from the January sale." Concludes Chris Osborne."
Year      Make & Model                                     Price £
Dump Truck
2018 CAT 745 6×6 Articulated Dump Truck 187,000 (multiple machines)
2014 Volvo A30G 6×6 Articulated Dump Truck 107,500 (multiple machines)
Dumpers
2019 JCB 9T-1 9 Ton Dumper, Front Facing Camera 29,000 (multiple machines)
2018 Wacker Neuson DW90 9 Ton Dumper 26,000 (multiple machines)
2018 Thwaites 9 Ton Dumper, Roll Bar 21,500 (multiple machines)
2017 Thwaites 3 Ton Swivel Skip Dumper, Roll Bar 14,000 (multiple machines)
Telehandlers
2022 JCB 540-180 Hi Viz Turbo Powershift 87,000 (unused)
2022 JCB 540-180 Hi Viz Turbo Powershift 84,000 (unused – multiples)
2022 JCB 540-180 Hi Viz Turbo Powershift 88,000 (unused)
2021 JCB 535-95 Turbo Powershift 60,000
2021 Manitou MT625H Comfort Turbo 47,000
Backhoe
2018 JCB 3CX P21 ECO Contractor, Backhoe Loader 55,000
2019 JCB 3CX 4WS Turbo Compact Backhoe Loader 53,500
6T Excavators
2018 Hitachi ZX85USB-5A 37,000
2018 Kubota KX080-4 Rubber Tracks 37,000
2017 Takeuchi TB290 Rubber Tracks 41,000
2017 Yanmar VIO80-1A Rubber Tracks 34,000 (multiple)
2014 CAT 308E2CR Rubber Block Pads 29,500
10T Excavators
2022 Hitachi ZX160LC-7 700mm Pads 96,000
2021 Volvo EC140EL 700mm Pads 73,000
2022 Hyundai HX145LCR 700mm Pads 84,000
2019 Hitachi ZX130LCN-6 700mm Pads 50,000
2018 Takeuchi TB2150R 700mm Pads 59,000
2018 Doosan DX140LCR-5 780mm Pads 57,000
2018 JCB JS131LC 700mm Pads 30,500 (multiple)
2016 JCB 100C-1 Rubber Tracks 33,000
20T Excavators
2016 Hyundai HX520L 700mm Pads 78,000
2020 Doosan DX420LC-5 600mm Pads 141,000
2017 Hitachi ZX350LC-6 700mm Pads 88,000
2019 CAT 320 2D 700mm Pads 86,000
2019 Hitachi ZX210LC-6 700mm Pads 63,000
2018 Hitachi ZX225USLC-6 700mm Pads 64,000
2018 Komatsu PC210LC-11 59,000 (multiple)
Mini Excavators
2021 Hitachi ZX48U-6 CLR Rubber Tracks 36,000
2019 Kubota U48-4 Rubber Tracks 30,000
2021 Hitachi ZX33U-6 CLR Rubber Tracks 30,500 (multiple)
2021 Kubota U27-4 Rubber Tracks 24,000 (multiple)
Tractor
2014 John Deere 6210R 4WD Tractor 40,000
2018 JCB Fastrac 4220 4WD Tractor 54,500
Tippers
2018 Scania P410 8×4 Tipper, Abba Body, Easy Sheet 74,000 (multiple)

2017 DAF CF440 Euro 6, 8×4 Tipper Grab Lorry 48,500

2018 Volvo FMX420 Euro 6, 8×4 Tipper, Charlton Body 48,000

2017 Volvo FMX420 Euro 6, 8×4 Tipper, Charlton Body 45,000

2015 Volvo FMX420 Euro 6, 8×4 Tipper 30,000

Share on